Canada Gas & LNG Exhibition and Conference
May 9-11, 2023
Vancouver Convention Centre | Vancouver, Canada
Construction for Woodfibre LNG to start in 2021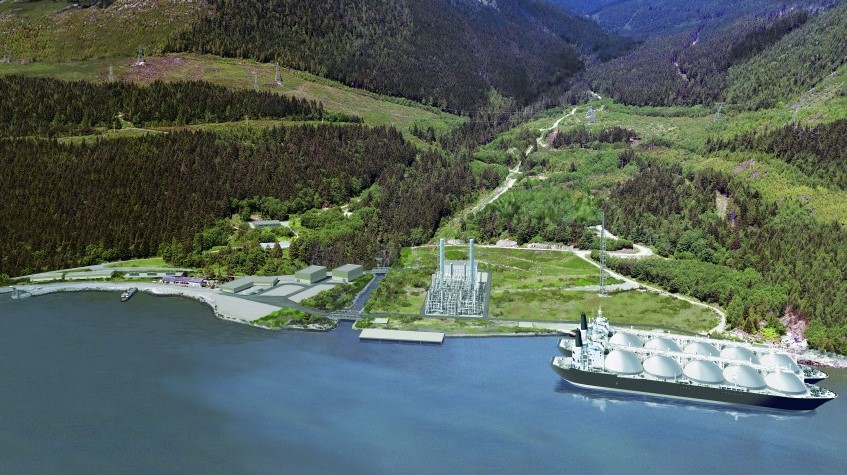 November 20, 2020
Nelson Bennett
Business in Vancouver
Construction of the Woodfibre LNG plant and export terminal in Squamish, which was scheduled to be underway this year, will be pushed back by more than a year, says the company's outgoing president.
Construction on the project will likely not start until the fall of 2021.
David Keane is retiring as Woodfibre's president at the end of this month, but will continue to be an adviser.
In an exit interview of sorts, Keane explained why the project has been delayed, and said he now expects Pacific Oil and Gas to formally approve the project, estimated to cost between $1.6 billion and $1.8 billion, by 2021's third quarter. Construction would start shortly thereafter, with the plant expected to be producing liquefied natural gas (LNG) for export by late 2025.
Keane, 69, joined Woodfibre as president in 2018. Prior to that, he was the CEO for the BC LNG Alliance (recently rebranded the Canadian LNG Alliance) for four years.
The COVID-19 pandemic and a bankruptcy have contributed to the Woodfibre LNG construction delay.
In January, the project's main engineering, procurement and construction (EPC) contractor, McDermott, filed for Chapter 11 bankruptcy protection in the United States. It has since restructured its debt and may continue as Woodfibre's EPC contractor.
The COVID-19 pandemic also temporarily closed LNG-module fabrication yards in Asia.
The delay forced the company to apply for a five-year extension to its provincial environmental certificate.
FortisBC has also applied to the BC Environmental Assessment Office for a five-year extension to its environmental certificate for a new 47-kilometre pipeline that will supply natural gas to the Woodfibre LNG plant.
While the company waits for Pacific Oil and Gas to pull the trigger on its final investment decision, Woodfibre has been working on the remediation of its site, which was previously occupied by a pulp mill.
Once it's started, the project would employ 600 people at peak construction and 110 ongoing.
When Keane, who is American, first came to B.C. to head the BC LNG Alliance in 2016, there was a "gold-rush mentality" around LNG, with roughly 20 large and small LNG projects proposed for the province. Keane said there was good reason, at the time, to think B.C. would become major player in the global LNG export market.
"The demand was growing in Asia, British Columbia is an excellent location, it has a tremendous amount of natural gas reserves, so the supply's there. So it made a lot of sense for companies to come in and look at B.C.
"And I think it still is a very, very good place to do business."
But B.C. has been eclipsed by the U.S., which built several new LNG projects, while proposals for B.C. stalled and died.
One by one, major projects like the $36 billion Petronas Pacific Northwest LNG were scrubbed, as a result of falling oil prices (which had been indexed to LNG prices), a temporary glut of LNG globally, regulatory delays and a suite of new LNG industry taxes introduced by the former BC Liberal government that made proponents balk.
"Developing an LNG income tax before an industry was even up and running had a significant and serious implication for the industry," Keane said.
After John Horgan's BC NDP formed government in 2017, it agreed to cancel the LNG tax, as well as special electricity rates for LNG that the Liberals had introduced. Once LNG was placed on the same footing as other heavy industries, partners in the LNG Canada project announced a $40 billion final investment decision.
Compared with LNG Canada, Woodfibre is small. But it has set the bar high for other proposals in two respects.
For one, it entered an unprecedented agreement with the Squamish First Nation (SFN), which became, in essence, a regulator. SFN produced its own environmental impact study, and Woodfibre agreed to abide by all 25 of its recommendations.
Woodfibre also agreed to use electricity instead of natural gas for the liquefaction process. By using e-drive, the carbon emissions intensity of Woodfibre's LNG will be the lowest in the world.
Keane said that if the provincial and federal governments want Canada to develop an LNG industry, they need to be mindful of competitors.
"If you look at [why] the United States was successful in developing four or five significant LNG projects, where we weren't successful except getting one off the ground, we should look at that. Looking at the amount of regulations that are in place is important." 
Editors Note: The original story, which stated FortisBC had been granted an extension to its environmental certificate, has been corrected. FortisBC recently applied for an extension -- it hasn't been granted yet.
Source: Business in Vancouver