A Rising Tide: The Economic Impact of B.C.'s Liquified Natural Gas Industry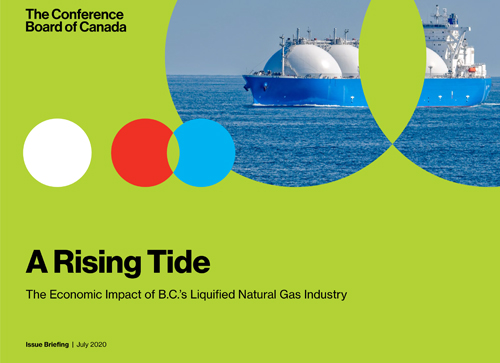 July 27, 2020
The Conference Board of Canada
British Columbia is becoming the focal point of a new Canadian industry—liquefied natural gas (LNG). This briefing looks at the impacts based on a scenario that creates a 56 million tonne per annum LNG industrial footprint in the province.
Between 2020 and 2064, total annual investment would average over $11 billion, totalling in excess of $500 billion over the entire period.
For Canada as a whole, LNG would mean 96,550 more jobs a year and over $6 billion in wages.
For British Columbia, there would over 71,000 more jobs a year and over $4.6 billion in wages.
From 2020 to 2064, over $108 billion in provincial revenue could be generated for the provinces. Of this total, nearly $94 billion would go to British Columbia.
The federal government could expect to see $64 billion in additional revenue.