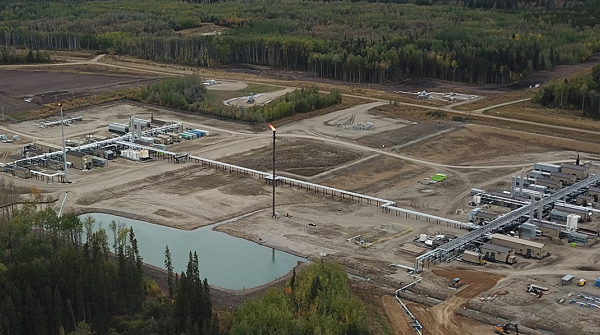 I am sure many people would agree that Liquefied Natural Gas is the one hydrocarbon product that could have the single largest impact on the petroleum industry and the Canadian economy. It is therefore critical that we as an industry have access to tidewater and new markets for our natural gas. The exporting of LNG will also aid in reducing global greenhouse gas emissions by using it to replace carbon-intensive coal energy in other countries.
The continual advent of technology has made it possible for producers, large and small, to tap into the vast quantities of natural gas resources trapped miles beneath the surface in the Western Canadian Sedimentary Basin ("WCSB"). This is both good and bad. Good in the sense that we have a great many years of clean energy available for consumer consumption, but bad in the sense that we have limited options in which to sell our product. As everyone knows, Alberta is a very pipeline constrained province (both oil and natural gas) which leads to extreme pricing volatility. Over the past several years, Alberta producers, have at times, paid to keep their gas flowing (I.E. AECO strip pricing was below zero $/GJ) on the TransCanada, Nova Gas Transmission Ltd ("NGTL") system. Some companies had no choice but to keep their gas flowing in order to fulfil long term, physical, contract obligations. This consistent market volatility makes it very difficult for any producer to forecast cash flow and set annual capital budgets when daily pricing fluctuations range anywhere from zero (or negative) to $2.50/GJ and back down again, sometimes all within days of each other. It also forces many smaller producers to shut-in volumes to avoid uneconomic netbacks, which results in significant loss of cash flow.
The approval of the LNG Canada project in Kitimat, BC was great news however it may not immediately provide benefit to many small and intermediate Canadian producers. The large integrated multi-national owners of this project already have the dedicated reserves to supply feedstock for this project for many years to come. Hence the need for an additional sizeable LNG facility.
This past year, Calgary based Birchcliff Energy along with another Senior E&P company, took the lead role in the formation of a Producer led LNG Consortium. The consortium now comprises of ten natural gas producers with current combined production of 3.3 Bcf/d and 14 TCF of natural gas reserves. The goal of the consortium is to conduct meaningful consultation with First Nations and all other stakeholders and to obtain the necessary regulatory approvals required to make FID for the construction of a 12 MTPA LNG Facility off the west coast of British Columbia.
In summary, the access to new markets via tidewater and the exporting of LNG will be key to the revitalization of the Western Canadian energy sector as we know it today.
Attend Canada's only exhibition and conference dedicated to the global gas and LNG industries! Register now to discover incredible insights and market expertise at this year's Canada Gas & LNG Exhibition
Image courtesy of Birchcliff